Parallel Crossing: Performative Architecture February 22. SAT→23. SUN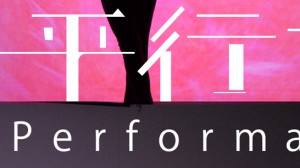 Intersection project, College of Art, Nihon University
'Program For the Promotion of Culture and Art by Utilizing University for the fiscal year 2013'
Exhibition "Parallel Crossing: Performative Architecture"
A performative exhibition with spatial images, projected images, bodily images, soundscape and text. A Two day exhibition with a large circular installation at the University Theater, College of Art, Nihon University.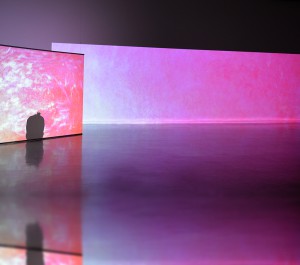 Exhibition
February 22. SAT→23. SUN 12:00→17:00
The middle hall, College of Art, Nihon University
Installation&performance
12:00→14:00
15:00→17:00
Public talk
February 22. SAT 14:00→15:00
Kenjiro Hosaka[Curator of the National Museum of Modern Art]
Tomoko Mukai[Associate professor, Department of Design]
Yasuhiro Kumagai[Professor, Department of Theatre]
February 23. SUN 14:00→15:00
Shutaro Mukai [Professor Emeritus, Musashino Art University]
Tomoko Mukai
Performers
Junjun[Choreography + dance]
Miya Kim[Choreography + dance]
Ayako Terauchi[Reading]
Narumi Saito[Dance]
Project members
Tomoko Mukai[Art direction + spatial visual images]
Kunitoshi Okuno[Video images]
Satomi Tanaka[Photography]
Hiroshi Kawakami[Sound design]
Yasuhiro Kumagai[Dramaturg]
Hiroshi Aikawa[Science of literature]
Julian Manning[Cultural anthropology]
Ippei Ogura[Sound creation]
Shiro Yamamoto[Technical direction]
*Performers will appear randomly during the period of the installation.
*According to circumstances, the opening time of the exhibition may be delayed.
*The program may be subject to unannounced changes in unavoidable circumstances.
Tickets
Adult: 1000 Yen
Stundent: Free
*Please purchase your tickets at the venue on the day of the performance.
*It it is possible to exit and re-enter the venue during the event, so please retain your ticket stubs.
*In case of overcrowding, people will be admitted in order of ticket number.
*Children under school age will not be admitted.
Organized by Nihon University
Cooperated by Owl Spot Theater [Toshima Performing Arts Center],
Nishi- Sugamo Arts Factory, Yokohama Red Brick Warehouse Number1
Supported by Seiko Epson Corp.
Cooperated for public relation by HiWood
Inquire
Department of Design, College of Art, Nihon University[Tel:03-5995-8690/Fax: 03-5995-8691/Mail:intsct@gmail.com]
Address:College of Art, 2-42-1 Asahigaoka Nerima-ku Tokyo, 176-8525
HP: http://www.intsct.com | Facebook: https://www.facebook.com/intsct | Twitter: @intsct